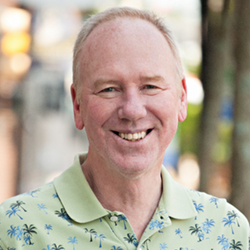 Associate Broker | Olde Port Properties
Olde Port Properties
26 Congress Street
Portsmouth, NH 03801
Email Phone: 603.766.0424

About Mark
Born and raised in Portsmouth, Mark Nason graduated from New Franklin Elementary and Portsmouth High, in what seems like a blur, and went on to the Thompson School of Agriculture at UNH. It was Mark's passion for fine cooking, both preparing and partaking of it, that led him through an early working career in some of Portsmouth's most stories local eateries.
Mark then evolved to the trades where he gained a thorough knowledge of all aspects of new construction, specializing in residential masonry. Eventually, Mark determined it could be just as rewarding to sell real estate as it is to create it. He became a licensed Realtor in 1989 and founded his own brokerage in 1994, Nason & Company, Inc. Located right in downtown Portsmouth, on the river overlooking the tugboats, Mark built a prolific team of dedicated professionals; all of which makes him an integral part of Olde Port Properties today. We consider him "Portsmouth's Natural Resource".
Mark now resides in North Rye with his Welch Pembroke "Theodore". He finds the beauty and open space living near Berry's Brook a "stay vacation". When not working, Mark spends his energy at his favorite surf break, fishing, or on the tennis court.