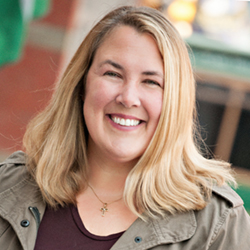 Realtor | Olde Port Properties
Olde Port Properties
26 Congress Street
Portsmouth, NH 03801
Email Phone: 603.766.0424

About Abbie
Abbie is thrilled to be part of the Olde Port team, and excited to help people buy, sell and rent real estate in Portsmouth and the greater seacoast area.
A native of the NH seacoast, Abbie grew up in Stratham and Exeter before graduating from Exeter Area High School in 1995. After obtaining a degree in Magazine Journalism from Boston University's College of Communication, Abbie enjoyed selling computer hardware and software, as well as writing for The Portsmouth Herald.
In 2012, Abbie and her husband, Chris, launched Ciao Baby Equipment Rentals, seacoast NH and southern Maine's leading provider of top-quality rental equipment for babies and young children. They sold the company in 2014 so Abbie could focus full-time on real estate.
Abbie lives in Portsmouth with Chris and her three daughters. Her oldest daughter, Jonah, is a junior and a musical theater devotee at Portsmouth High School; Charlotte is in 6th grade at Portsmouth Middle School and is an avid soccer and lacrosse player; and her youngest daughter, Francis, is in 4th grade at Portsmouth's Little Harbour School and is the family's Chief Dog Walker for their briars puppy, Louie.
Abbie is excited to be a show sponsor of Patrick Dorow Productions, a local provider of Broadway-quality musical theater, and believes supporting the Arts is the key to ensuring Portsmouth, and the entire Seacoast area, remain in a dynamic and incredible place to live. She is constantly blown away by how much creative talent is in her community!
Abbie has literally traveled around the world and thinks Portsmouth is the greatest place to call home!